Find the best hotels and resorts in Fiji for your next Pacific Islands escape. We help create amazing Fiji holiday packages and experiences to help you maximise your time and relaxation in the Pacific.
Viti Levu – Denarau
Fiji's main island, Viti Levu, is of volcanic origin and features rugged mountain ranges rising above narrow coastal plains and offshore coral reefs. Enjoy a tropical climate with temperatures from 16 to 32 degrees Celsius, especially from May until October! Denarau Island is located west of Viti Levu and can be reached within 20 minutes of the main international airport at Nadi.
Sofitel Fiji Resort & Spa
The luxurious, very stylish resort is sheltered on the western side of Viti Levu, tranquil in its private, stunning beachfront location on Denarau Island. The resort is just an easy and picturesque 20-minute drive from Nadi International Airport via causeway. It presents a harmonic mixture of tradition and culture, with resort facilities including the outstanding 'Mandara Spa' (massages, body therapy, beauty salon, etc.), a ballroom, a retail shopping arcade, conference facilities, a fitness centre, the Turtle Club for kids (2-12 years), a cocktail bar, restaurants and the charming cafe 'La Parisienne'. The Sofitel Fiji Resort & Spa is situated on a large section of Denarau Island, and is adjacent to the Denarau Golf and Racquet Club with championship golf and 10 tennis courts.
More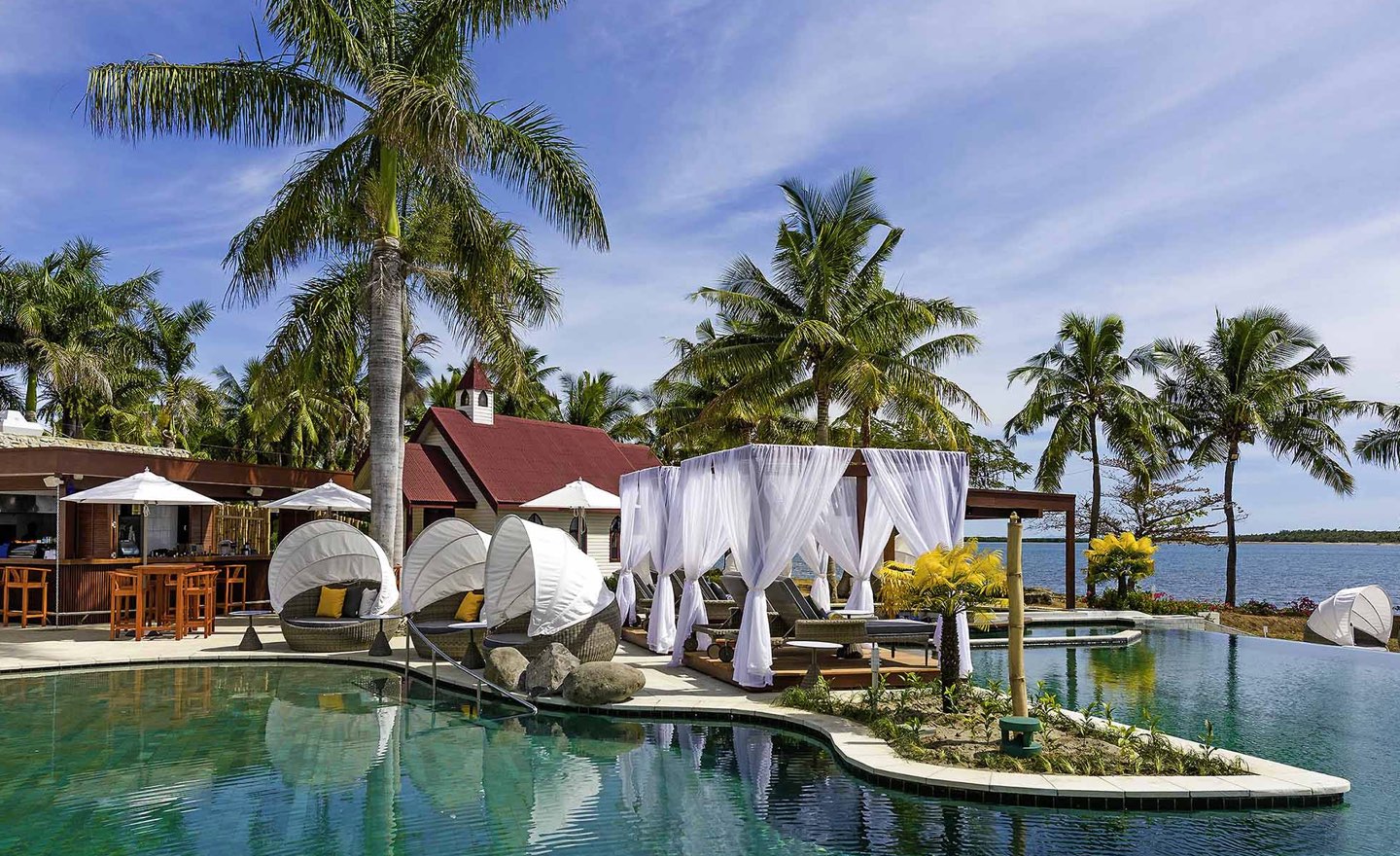 Lomaiviti Islands
The Lomaiviti Islands consist of seven main and several small, mostly uninhabited islands. They can be found on Viti Levu's east side in the Lomaivitis. The unique, privately owned Toberua Island is accessible from Suva city or Nausori airport (30-minute bus ride, then another 30 minutes by boat along a wide river system). This very small island is surrounded by white sandy beaches, crystal clear water and various coral and sea life. Explore the genuine Robinson Crusoe feeling!
Toberua Island Resort
The Toberua Island Resort comprises only 15 bures (pronounced 'boo-rays'), thus it is less crowded and facilitates a lot of privacy – just perfect for an intimate romantic getaway in a tranquil, tropical atmosphere. The thatched roof bures stand on the beach and come with high ceilings and private ensuite bathrooms. The Premium and Deluxe Oceanfront Bures boast an exceptional balance of pacific and contemporary styles. Make use of the good snorkelling and diving conditions and experience the amazing underwater world!
More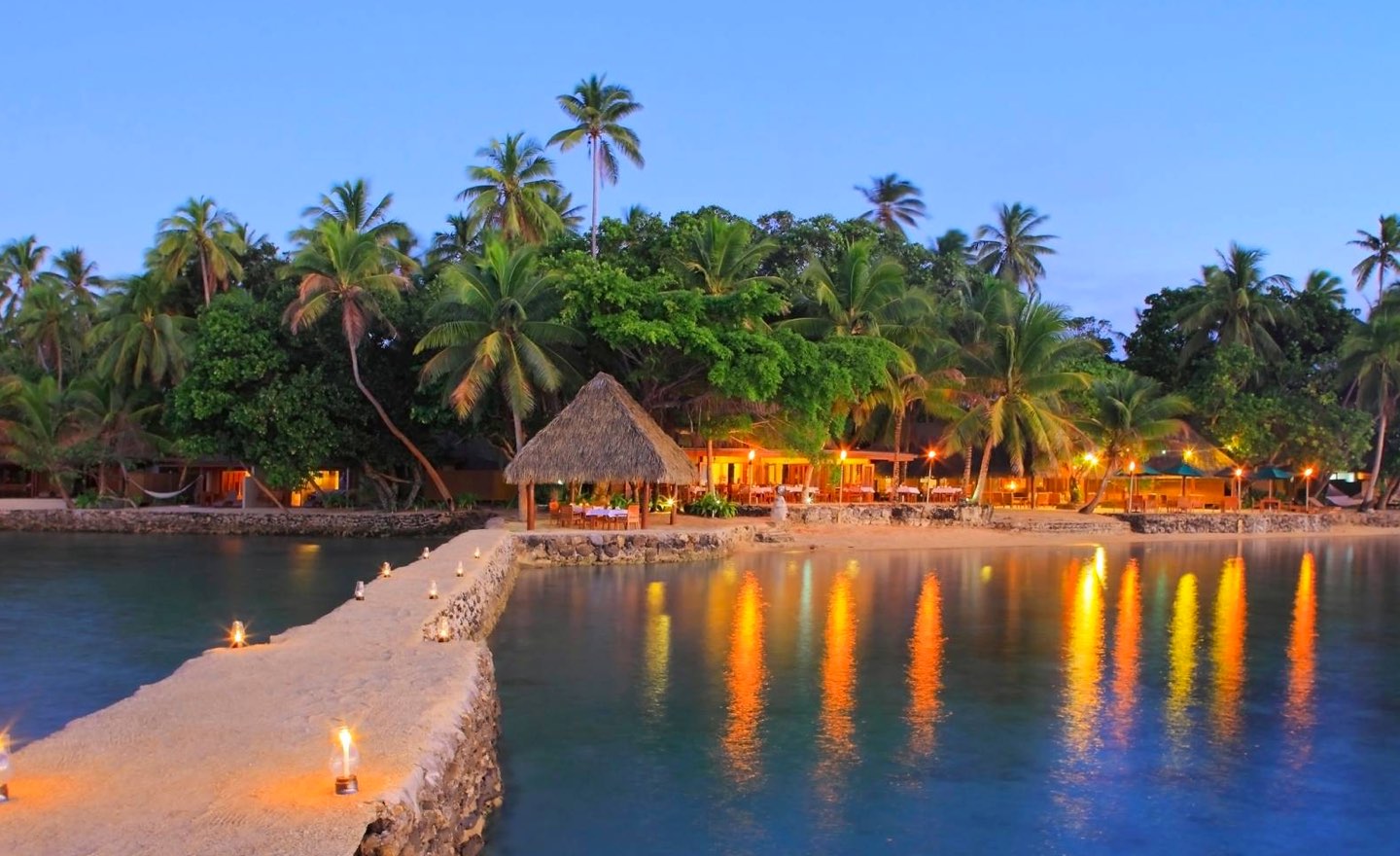 Mamanuca Islands
The Mamanuca archipelago extends west of Fiji's main island of Viti Levu, following the Yasawa Islands. The Mamanucas are a group of 20 volcanic islands, some of them being under water at high tide. Their clear reefs are home to various kinds of exotic fish.
Get in touch today
to talk about your Pacific Island escape – we can help you bring it to life.